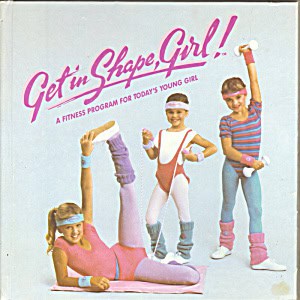 Week Three: My vintage fitness roots.
As I continue with my career transition, I have been teaching several Pilates classes and training individuals one on one.  During these sessions, people keep asking me, "how did you get into this?"  So I gave it some thought and reflected back on my first memory of "fitness" and what may have inspired my newly chosen path.  Well it is certainly not a profound answer, but I'm all about honesty, so here goes….
My first memory of fitness.
We all remember running around outside (although sadly, that seems to have become a lost art form), games at recess, and gym class.  Maybe you also took gymnastics classes or were part of some other organized sport, but I am talking about fitness.  What is your first memory of "working out" for the sake of feeling good and improving your health.  Mine dates back to 1984, the year that Mary Lou Retton won gold and I proudly wore a sweat suit (remember those?) bearing her signature.  That was also the year that Hasbro introduced the "Get in Shape Girl!" set; picture a plastic pink mat, pink jump rope, and tiny pink hand weights.   Oh how I coveted this pepto bismal hued assembly of items and the hinting around for a Christmas gift promptly began.  After all, I did get up early every morning to watch the 20 Minute Workout that aired on PBS.  I guess that I should have known then that I would eventually find my way to a career in the fitness industry, but back then it was admittedly more about the leg warmers, pink props, and a love for jumping around.
My Christmas wish came true and my new workout set inspired a flurry of classes that I subjected my sisters to take as I bounced around and shouted, "for eight, seven, six, five…."  And yes, this was all done while wearing the Mary Lou sweat suit.
Now, over thirty years later I am back to chasing my sisters around to take my classes…
So there you have it, my first real memory of fitness and exercising for the pure love and joy of movement.  What's yours?